This is an easy and quick recipe that will become a hit with your family and friends. 
Ingredients-
Cooking-
Set Smoker to 275
While Smoker is warming up cube pork belly into one inch pieces. 
After cubing season pork belly with your favorite rubs. For this last cook I went with an all purpose rub and a touch of a sweet rub to get a more savory profile.
I used an extra rack and placed the cubes on that in my smoker.  
You want to smoke for about 3 hours or until the cubes hot around 195 for that soft texture. 
Every 45 minutes to an hour you will want to spritz the pork to keep it from drying out. This can be done with apple juice or water.
Once they hit temp place the cubes in an aluminum pan.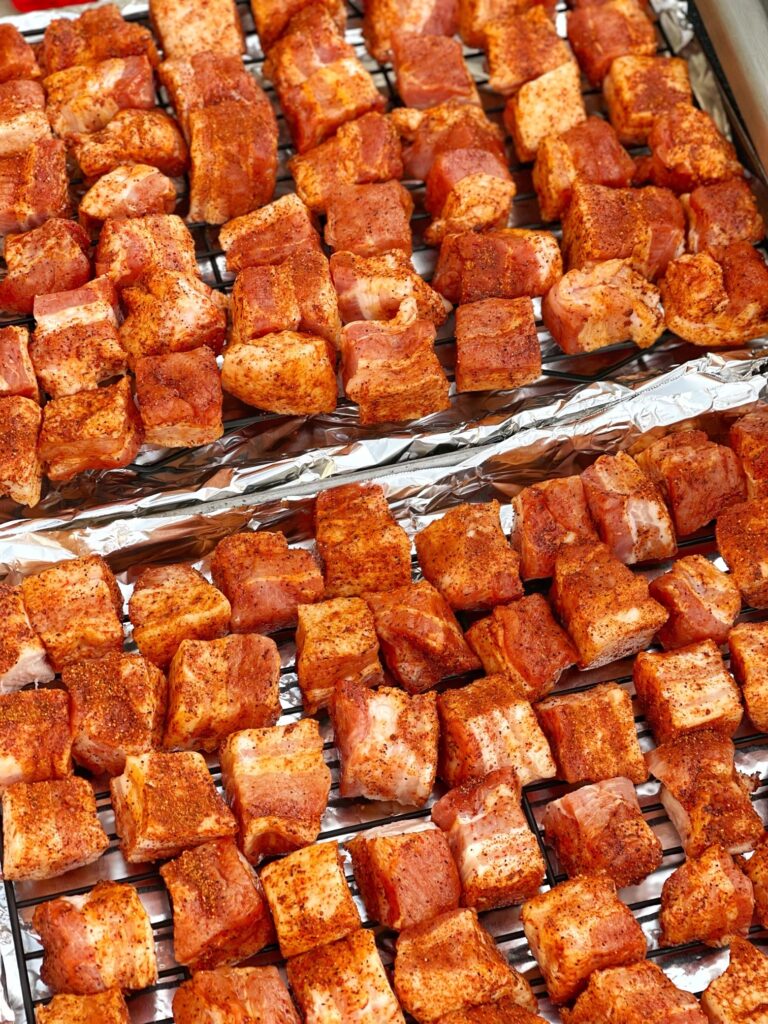 Season with the same seasoning or a different flavor profile to build some unique flavors. I went with a sweet rub in this step. 
Cover the cubes with B.B.Q sauce. 
Last step place a few pats of butter on top. 
Place back on the smoker for an about an hour. You want the sauce to reduce and get caramelized a bit. 
Pork Belly Burnt Ends
Traditional BBQ burnt ends feature the point of the brisket, cubed and cooked further in a sticky sauce. This spin on burnt ends uses pork belly instead, and the result is like cubes of pig candy. Yum!
Equipment
Smoker grill

Grill-safe wire rack (optional)

Spray bottle

Grill-safe baking dish or aluminum pan
Ingredients  
2

pounds

pork belly

(with skin removed, see note)

½

cup

rub or seasoning designed for pork like my Smoke Junkie from Spiceology

(pork rubs generally include some sugar, salt, pepper, and some spices like paprika)

½

cup

apple juice or water

1

cup

your preferred BBQ sauce

⅓

cup

butter, cut in pats
Instructions 
Preheat your smoker grill to 275°.

While smoker is warming up, cut the pork belly into 1-inch cubes.

Season the pork belly cubes with your preferred rub. Be sure to coat all six sides. Reserve a bit of seasoning for a later step.

If desired, use a grill-safe wire rack to transport your pork belly cubes to the grill. Arrange cubes on the rack, leaving space between each, and place entire rack directly on the grill grate. Alternately, you can just place the pork directly on the grill grate.

Allow pork to smoke for 3 hours, until the internal temperature of the pork is about 195°.

Hourly during cooking, spray pork with some of the apple juice or water in your spray bottle. This helps the meat retain moisture during the cook.

Once the pork reaches 195°, transfer to the pan or dish.

Sprinkle with additional seasoning and pour BBQ sauce over top. Stir to combine and coat all pieces.

Spread pork evenly in the pan and top with a few pats of butter throughout.

Return pan to smoker and cook for one additional hour.
Notes
I've found that generally, pork belly comes with the skin removed. In the event that your piece comes with skin, use a sharp knife to remove that layer from the pork, without removing the entire fat cap.