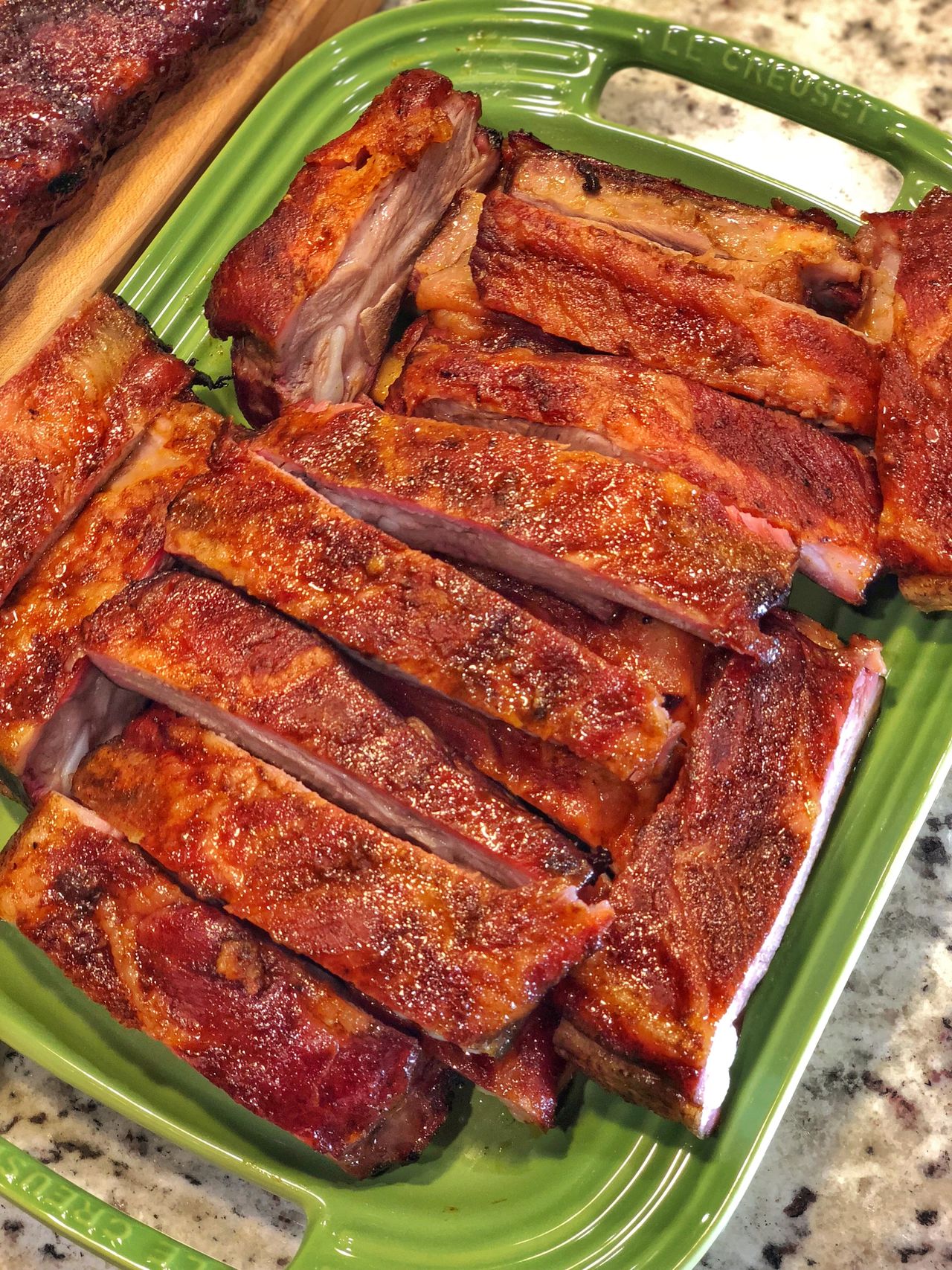 Lots of people have requested info on how I cook my ribs. I am a big fan of St. Louis Style Spareribs. This cut comes from the belly area, which makes for a good amount of meat on the bone. St. Louis ribs have generally been trimmed into a more rectangular shape. 
I start with trimming them more to help the cooking time be more even. This is not necessary but gives your ribs that perfect presentation. 
I trim down a few bones to have ten nice looking, more even bones. The scrap ribs can be cooked on the side, or used in beans, green chili and a variety of other dishes. 
I then trim away any hard fat and any uneven parts. I am looking for a nice rectangle to work with. 
I then remove the membrane from the back of the ribs. If you are having trouble getting them off, using a paper towel works great. 
Its now time to season the ribs. I like to use a binder to help the seasoning stick. Mustard or hot sauce are my go-tos. 
I then season the ribs with a rub that will work with the pork flavors. Usually these rubs have some sugar in them.
Some of my favorites are Meat Church Holy Gospel, Honey Bacon BBQ and Traeger Grills Pork and Poultry. 
I season both sides of the ribs with the meat side getting a nice heavy layer. I let the rub sit for at least thirty minutes before putting on the smoker. This allows the meat to start to sweat and the rub to work into the meat. 
I cook at 225 degrees meat side up until they reach 160 degrees internal temperature. This takes about 3 hours in Denver. 
During this time, if the ribs are looking a little dry a little spritz of apple juice will help. 
After they reach 160 degrees internal temperature, it is time to wrap them. 
I get a large piece of aluminum foil and put down a layer of butter (Parkay margarine works best), raw sugar, agave and hot sauce. I then put the ribs meat side down. I then top the ribs with the same layer of ingredients. I then wrap them up tightly and put them back on the grill, meat side down. I bump the temp up to 275 but you can go anywhere from 225-250. 
I cook the ribs in this step until they reach 200 degrees internal. For me I have been finding this temp to have a nice clean bite with the ribs, If you like them more fall off the bone go to 204-206 degrees internal temperature. 
Enjoy!
PS- Check out the links within this post for direct ordering access for my favorite things!
St. Louis Ribs
This is a general recipe on how I like to cook my St. Louis ribs
Ingredients  
1

rack

St. Louis cut ribs, unseasoned

your favorite hot sauce or mustard

your favorite BBQ seasoning

⅓

stick of butter, cut in pats

¼

cup

apple juice

⅛

cup

agave syrup

⅛

cup

raw sugar
Instructions 
Begin by preparing the ribs. On a sturdy cutting board, trim the ribs as desired.

For "competition" style BBQ, square up the rack, and trim it down to 10 bones. Save the cut off pieces for another cook, if you want (like green chili). Otherwise, leave the rack as-is.

Flip the rack over (meat side down) and using a sharp knife and a piece of paper towel, rip off the silver skin.

Season both sides of the ribs with your hot sauce or mustard, and sprinkle generously with rub.

Allow to sit and sweat for about 20 minutes.

Preheat smoker grill to 225°.

When grill is hot, place ribs in and allow them to cook, uninterrupted for about 3 hours. Cook until the bark looks nice and the rub doesn't come off when you push on the meat. About 160°.

Remove ribs from grill and place on a cookie sheet.

Using two large pieces of heavy-duty foil, create wrap for ribs.

Begin by placing ½ of the butter pats on the foil. Add ½ the agave syrup and ½ the raw sugar.

Place ribs in foil, meat side towards the butter/agave/sugar.

Repeat butter/agave/sugar mixture on back of the ribs.

Bring edges of foil together and add just a bit of apple juice.

Wrap tightly and place back in grill at 275°. Be sure you put them in the grill meat side down.

Continue cooking until they reach 204° (about 2 more hours).

Remove from foil, brush with your preferred BBQ sauce and place back on grill for 30-60 minutes, until sauce is set and ribs are tender.

Allow to rest for 10-15 minutes. Slice between bones and enjoy!