With the hot days of summer here, it's always a fun time to cook dishes that are light and refreshing.
This simple steak marinade with a grilled pineapple salsa will hit the spot just right on those hot days.
If you don't like spicy then you can adjust the pepper or if you want it hotter, add more.
The marinade consists of several cloves of garlic, most of a chopped habanero pepper, a big handful of fresh cilantro, the juice of two limes, two green onions and olive oil. Combine everything in a blender or food processor and puree until smooth and fragrant. Add olive oil to thin it out– you want it to have a fairly thick consistency.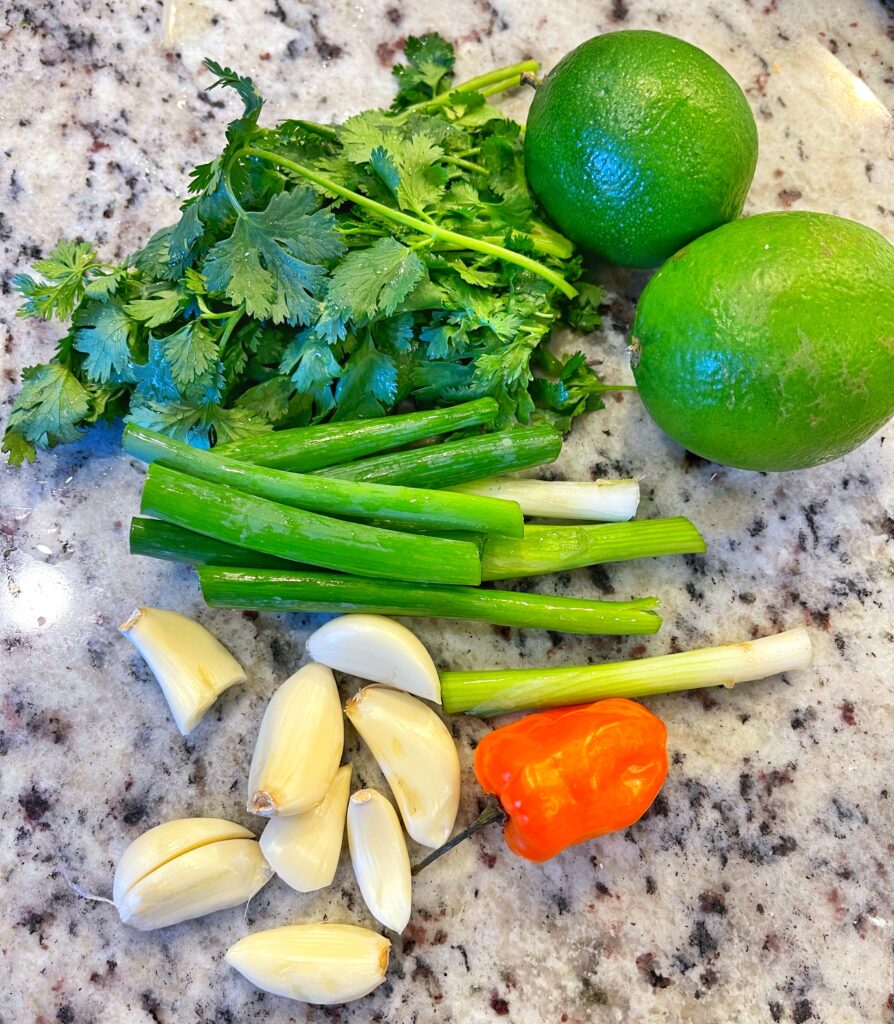 For this cook, I used a Bavette steak which is very similar to a flank steak. For marinating steaks, I like these cuts or a skirt steak to really take on that flavor profile. Any cut will do though.
I marinated this steak for about 45 minutes- the ideal time is at least 30 minutes and up to about 8 hours. I find if you marinate longer then the meat can become mushy.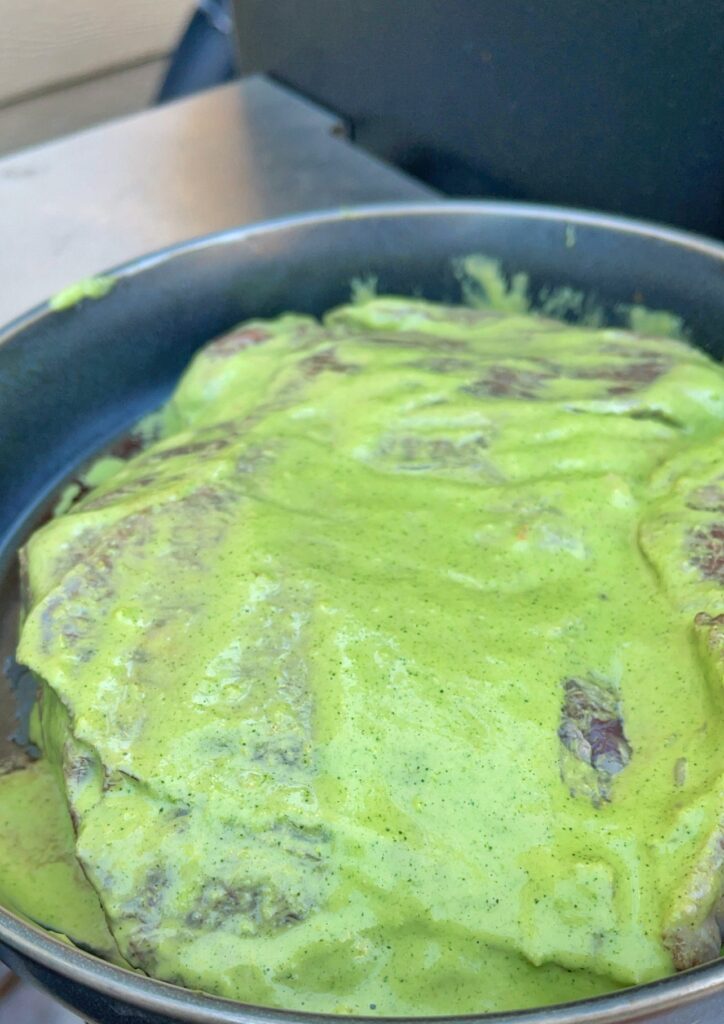 After the meat has marinated, I took it out of the sauce and placed it directly on the Traeger set at 225 degrees. I then allowed it to cook slowly until it reached just a few degrees below my ideal internal temperature.
When the meat reached 115 degrees, I took it off the grill and patted it dry with a paper towel. I then seasoned with a blend of salt, pepper and garlic, but any teak rub will do.
I then seared each side of the steak for about 60 seconds to get the steak to around 130 degrees finished temperature internally and with a great hard sear on the outside.
Transfer the steak to a cutting board and let the meat rest for at least 15 minutes. During this time, on that hot surface you grilled the steak, grill the pineapple for about 3-4 minutes. This will give it some nice char and make the pineapple extra sweet.
Chop the pineapple up into bite sized pieces and combine with some more diced habanero, cilantro, green onions and lime juice. Season to taste with salt and pepper.
Slice the steak against the grain and serve with the chopped up pineapple sauce.
Spicy Herb Marinated Steak
This marinade (or your variation on it) would be great on any number of steak cuts, or even on fish, shrimp or chicken.
Equipment
Blender or food processor
Ingredients  
2

limes, juiced

6

cloves

garlic, peeled

1

handful

cilantro leaves, rinsed

1

habanero pepper, roughly chopped

seeds removed if you want it less spicy

2

stalks

green onions, roughly chopped

1/3

cup

olive oil

salt & pepper to taste

1

Bavette steak

about 1 pound
Grilled Pineapple Sauce
1

fresh pineapple, peeled, cored and cut in 8 spears

1

tbsp

brown sugar

1

habanero pepper, finely diced

use as much as you want for spicy level of your liking

3

sprigs cilantro, chopped

1

green onion, finely chopped

2

tbsp

olive oil

1

lime, juiced
Instructions 
In a blender or food processor, combine first 5 ingredients and blend until smooth.

Add olive oil to the blender and process again until the mixture is creamy. Season with salt and pepper.

Trim and pat the steak dry with a paper towel.

Pour marinade over steak and turn to coat. Cover and place in fridge for at least 30 minutes, and up to 8 hours.

Preheat Traeger grill to 225°. When grill is hot, place steak in the center of the grill and close the lid.

Grill steak until internal temperature reaches about 115°.

While steak is grilling, toss pineapple spears in brown sugar.

When steak reaches 115° internal temperature, remove it from the grill and pat it dry with a paper towel. Season with salt, pepper and garlic.

Meanwhie crank up the temperature of your grill to the highest setting possible for searing.

When grill is super hot, sear the steak for about 60 seconds per side until internal temperature reaches about 130° and outside has grill marks or a nice char.

Remove steak to plate and tent with foil.

On the same hot grill, place pineapple spears on the grill and cook for 3-5 minutes, turning occasionally, until golden and carmelized.

In a bowl, combine sauce ingredients and roughly chop the pineapple spears. Combine all ingredients together and season to taste.

Slice the steak against the grain and serve with pineapple sauce.