Pork steaks are an amazing cut for a quick weeknight meal. There are lots of flavor possibilities with them. Pork steaks are often cooked low and slow in traditional Texas BBQ, but we have found that a hot and fast application can be as (if not more) delicious, and certainly less effort is involved.
About the Cut
Pork steaks are from the pork shoulder/ Boston Butt and sliced into steaks (1/4 to 1 inch thick) with the blade bone in them. Most stores sell them already cut or you can ask your butcher to cut a pork shoulder for you. They seem to be easier to find lately than they used to be.
How I Prepared Them
I started by marinating a pack of four pork shoulder steaks in Head Country BBQ Marinade. I used about half a bottle of marinade mixed with 1/4 a cup of water for four pork steaks. Taste the marinade and adjust the amount you use, based on how it tastes to you. Marinate them for at least an hour and up to overnight.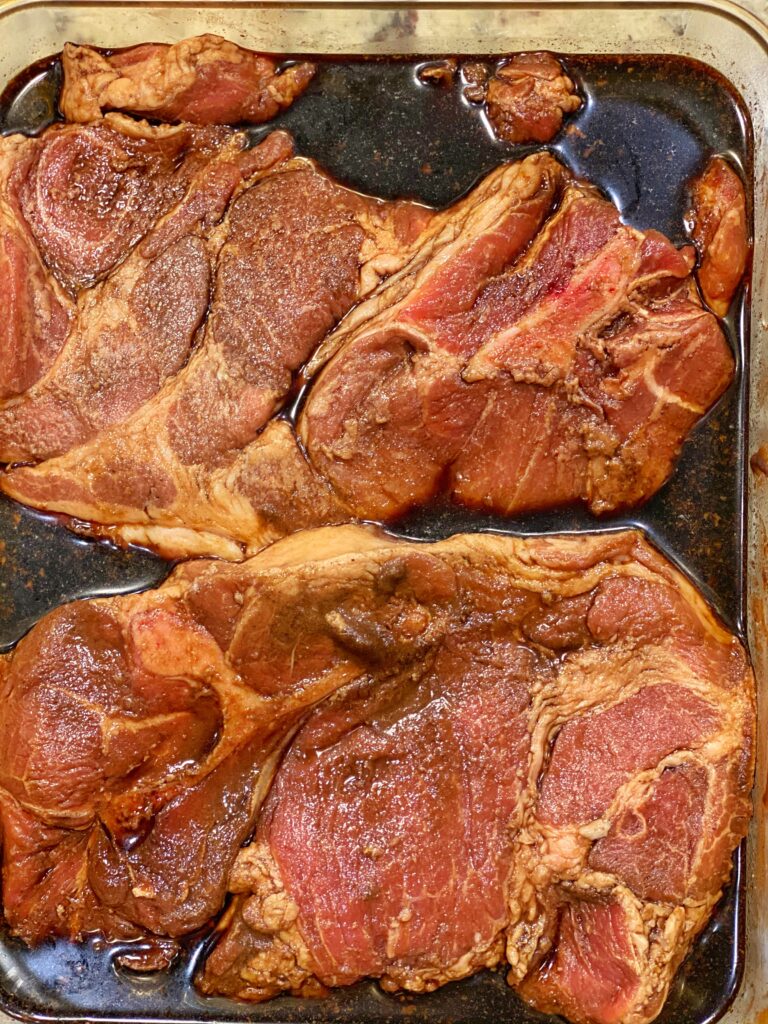 After a period of marinade, I pulled the pork steaks from the bath and patted them dry with a paper towel. I then used my Double Smoke rub to season both sides of the steaks. Any of your favorite pork rubs will work great.
Cooking Them
I then heated up my grill to 450 degrees with the cast iron griddle inside so that I could get a nice crust all over the steaks. I sprayed a little cooking oil on the griddle before dropping the steaks.
The pork shoulder steaks cooked for about 3/4 minutes per side until they reached 145 degrees internally when temped with an instant thermometer. After they cooked, I pulled them to a cutting board and tented them with foil to rest for about 10 minutes.
Making the Sauce
For the sauce, we whipped up a quick, creamy mushroom sauce that perfectly complimented the pork. Using freshly-crumbled blue cheese, we got the best flavor and melty qualities. For this recipe, we used Point Reyes Original Blue cheese.
In a cast iron pan, we started by sautéing the shallots and garlic with a few tablespoons of butter. When the shallots were translucent, we added the mushrooms and cook for about ten minutes until softened and turning brown.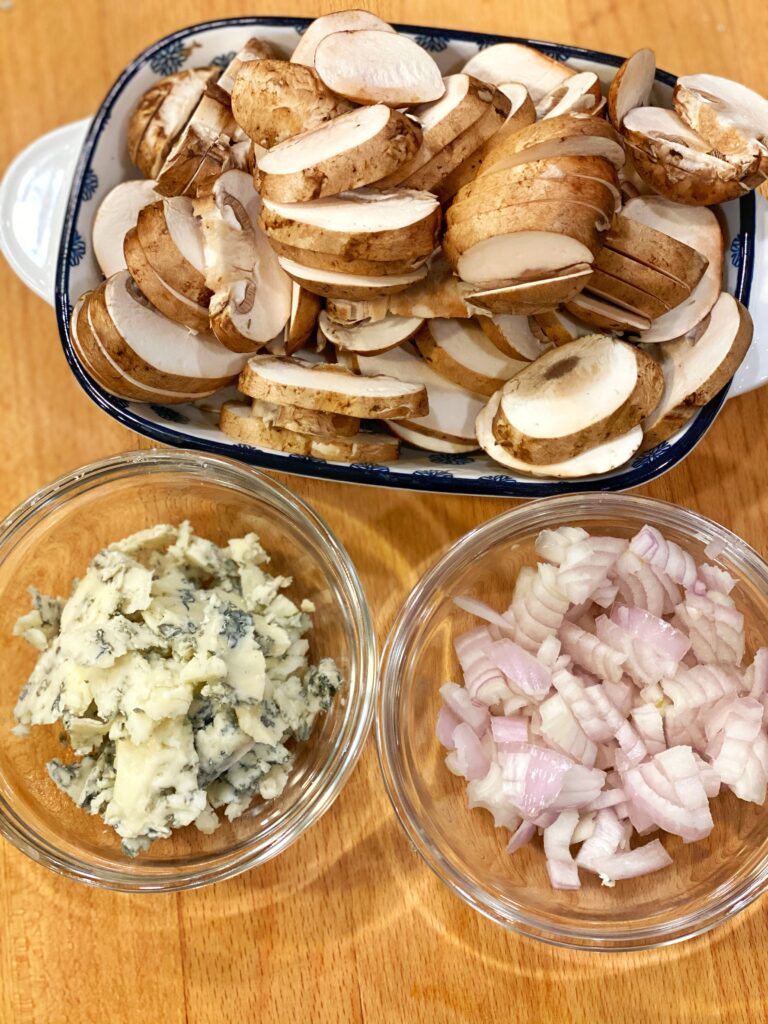 Once the mushrooms were brown, we deglazed the pan with chicken broth, added a few sprigs of thyme, and then stirred in the half-and-half. Turn the heat down on the pan when adding the cream, so it doesn't break or curdle when added. Using a wooden spoon, we stirred the sauce well, and added a bunch of cracked black pepper. Allow it to reduce slightly, so that when stirred it coats the back of the spoon.
Just before serving, we stirred in the freshly-crumbled blue cheese and added more pepper, if needed. Because the cheese is salty, we didn't add any extra salt.
Serving
To serve, we sliced the steaks into 1/2 inch strips and arranged them on a platter. Then poured the mushroom sauce over the pork. Top with a little extra crumbled cheese, if desired.
Pork Steaks with Mushroom-Blue Cheese Pan Sauce
A delicious, hearty dish that tops marinated, grilled pork steaks with a creamy sauce made of mushrooms and blue cheese.
Ingredients  
4

pork shoulder steaks (about 3/4 inch thick)

1/2

bottle

Head Country Marinade

1/4

cup

water

1/4

cup

BBQ rub like my Double Smoke

cooking spray
Mushroom-Blue Cheese Sauce
2

tbsp

butter

1

shallot, minced

1

clove

garlic, minced

1

pound

baby portabella mushrooms, sliced

1

cup

chicken broth

4

sprigs

thyme

1/2

cup

half and half

2

tbsp

fresh ground pepper

1/2

cup

freshly crumbled blue cheese
Instructions 
In a pan, combine 1/2 a bottle of marinade with water. Stir to combine and then add the pork steaks. Turn to coat and refrigerate at least 1 hour or up to overnight.

Preheat Traeger Grill to 450° F. Use a cast iron insert or griddle and allow to get very hot.

Spray the cast iron with a bit of cooking spray as it gets hot.

Remove pork steaks from marinade and pat dry with a paper towel. Then season both sides with BBQ rub.

Cook pork steaks on hot griddle for a few minutes per side, until crusty and brown and the internal temperature reads 145° F.

In a cast iron skillet, saute the butter with the shallots and garlic. When translucent, add mushrooms and cook about 10 minutes until softened and browned.

Deglaze your pan with chicken broth, then add the thyme sprigs. Stir to get any bits off the bottom of the pan.

Turn down the heat on the stove, and carefully stir in the cream. Bring to a simmer and allow to reduce slightly. Add black pepper and stir well.

Just before serving, stir in the blue cheese and season to taste.

Slice the pork steaks against the grain into 1/2 inch slices and arrange on a platter.

Top the pork with the pan sauce and extra crumbled blue cheese.