In partnership with Safeway
Mother's Day is just around the corner– this coming Sunday! While lots of people think going out to a restaurant is a great option for a holiday like Mother's Day, at our house we like to grab ingredients from our local Safeway store and cook up a decadent brunch on the Traeger grill. Using our backyard grills for the cooking and great ingredients from Safeway, we can put together a beautiful brunch cooked on the Traeger grill (complete with flowers!) in one stop, and mom can sleep in until brunch is ready!
TRAEGER GRILLED BRUNCH IS BETTER THAN DINING OUT!
This is my wife's first Mother's Day with babies and our 9-month-old twins are keeping us busy. For this brunch spread, I decided to make three things on the Trager– three of her favorite breakfast foods. Grilled fruit skewers with key lime dipping sauce, Traegered french toast and a duet of homemade quiches.
I started by checking out the upcoming deals on Safeway's app– which helped me to figure out what to make. I had an idea, but seeing the promotions helped narrow down the flavors. This spread, while seemingly complicated, was actually pretty simple thanks to some shortcuts we found at Safeway while grocery shopping. For example, cut fruit bowls are always available, and this week they were on sale. So I grabbed a bowl of cut melon and had one less thing to wash, cut and prep. 
Quiche is easy and delicious and made even more simply when you use a refrigerated prepared pie crust. Sausage and cheese were both ingredients on this week's circular, so that was an easy addition.
And to make french toast on the Traeger, we could use several of the same ingredients from the quiche– so the shopping list was streamlined. Add a loaf of freshly-baked french bread, some butter and a bottle of maple syrup and we had all we need for a great brunch in the bag. Literally! 
Oh! And don't forget the flowers. Safeway has an amazing selection of arranged and cut flowers and the kids and I grabbed a bouquet to give to mom. One-stop shopping at its best. 
SHOPPING LIST FOR A BACKYARD BRUNCH
For our three-part brunch on the Traeger grill, here was our general shopping list, all of which we picked up at our local Safeway store. Using their weekly circular ad, we were able to save some money on specials, and get everyday great prices on their store-brand items.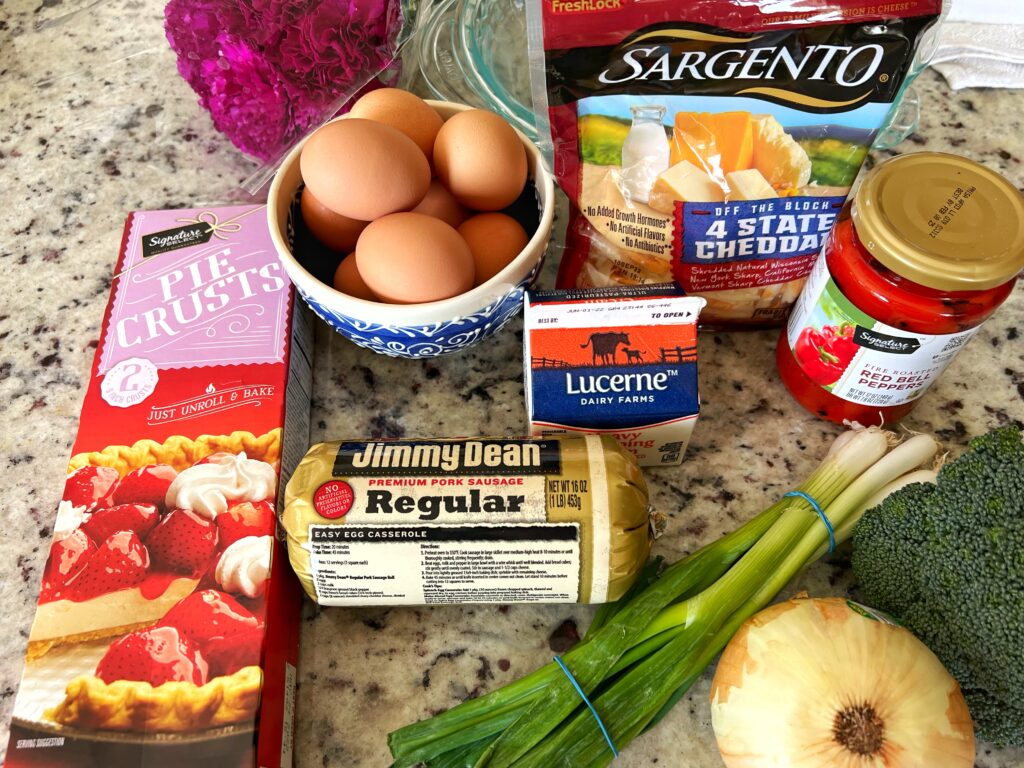 For the french toast
For the fruit skewers
WHY COOKING BRUNCH ON THE TRAEGER WORKS 
Cooking on the Traeger is fun, efficient and easy. For this Traeger grilled brunch spread, we had the Traeger going for just over an hour and got everything cooked up in rapid succession. The grill holds heat super efficiently and made it possible to cook everything with very little fluctuation in temperature. As the grill is designed like a very efficient convection oven, we knew that there wouldn't be hot spots that caused uneven cooking.
First, we used the grill like an oven to cook the quiche. 
Next, we knocked up the temperature to 425* and used the searing heat to cook the french toast with little issue. The fruit only needed a few minutes to get warm and some grill marks. The wood-fired heat adds just enough flavor that you can tell it's been cooked on a grill, but its's not overpowering.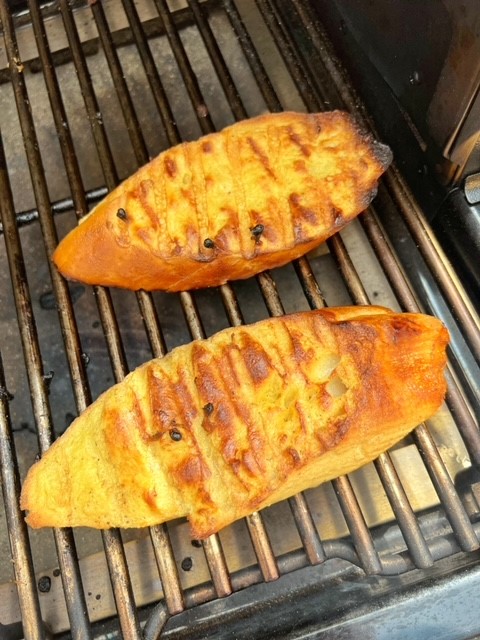 And the best thing about cooking Mother's Day Brunch on the Traeger? Cleanup is a breeze because we only dirtied one pan (for the sausage) and didn't get the kitchen hot using the oven. Mom got to enjoy her special day and meal and the dishes were minimal!
STEP BY STEP
We started the Traeger grill at 350* and while it heated up we prepped the quiches. 
A quick cook of the sausage in a frying pan made it ready for the crust. 
We rolled out the crusts into two pie plates and added the fillings. 
One got crumbled sausage and red bell pepper strips. The other got broccoli and green onions. And both got a bunch of cheese. 
We cracked 8 eggs into a bowl and added most of the whipping cream and some seasoning. 
After beating until frothy, we poured the egg mixture over the fillings and topped them with more cheese. 
We popped the into the grill for about 30 minutes until the filling was almost set. 
While the quiches cooked, we threaded the fruit on the skewers and made the dipping sauce. The sauce was super easy with vanilla yogurt, the juice and zest of a few key limes, a little brown sugar and some shredded coconut. 
For the french toast, we sliced the bread at a long angle and then combined the remaining eggs and cream in a bowl. Added some cinnamon and brown sugar to that and soaked the bread. 
As soon as the quiches were cooked, we cranked up the grill heat to 425* and sprayed the grates quickly with a little spray oil. 
The fruit skewers and french toast went right on the grates and we closed the lid. After about 5 minutes, check them and flip/turn as necessary. It took about 10 minutes total to cook. 
In the time the fruit and the french toast cooked, the quiche cooled adequately to slice and serve. Everything got piled on a plate and the french toast got doused in syrup and we were off to eat. 
OTHER GRILLED BRUNCH RECIPES
In addition to gathering all of our ingredients for this brunch trio at our local Safeway, we picked up some flowers and a card for mom. She got to sleep in and the kids and I made a great breakfast for us to enjoy. 
Everything was cooked up on the Traeger Timberline XL grill, which worked perfectly as an oven for baking the quiche and the high heats made for ideal searing of french toast and the fruit skewers. 
Want to make other brunch foods on the Traeger grill? Try out these recipes on my blog:
With Mother's Day happening this coming Sunday, now is your chance to get your recipes picked out, prep your shopping list, pop into your local Safeway store to make shopping a breeze and make mom a great brunch all in the comfort of your back yard!
Did you make this recipe?
I'd love to know how it turned out!
Leave a review below or snap a photo,
share it on Instagram and tag me at @ThisJewCanQue
RECIPE CARD PLUGIN
Brunch on the Traeger Grill
This trio of brunch dishes, cooked up in an hour on the Traeger grill, is the perfect spread for Mother's Day. Quiche, French toast and fruit skewers– something for everyone!
Equipment
Traeger Timberline XL grill

2 pie plates

2 cookie sheets

Bowl and whisk

Small bowl and spoon

Frying pan and lid
Ingredients  
For the quiches
2

refrigerated pie crusts

1

dozen eggs

½

pint

Lucerne heavy whipping cream

1

bag Sargento shredded cheese

½

a roll of Jimmy Dean breakfast sausage

½

a jar of Signature Select fire roasted red bell peppers

1

head of broccoli

2

green onions

Some seasoning

we used my Garlic Junkie
For the French toast
Eggs

from the above dozen

Lucerne heavy whipping cream

from the above

1

tbsp

Brown sugar

1

tsp

O Organics ground cinnamon

1

Fresh baked french baguette

2

tbsp

Lucerne Butter

4

tbsp

Signature Select Maple Syrup
For the fruit skewers
2

cups

fresh cut fruit

melon, bananas and strawberries

4

Wooden skewers

2

Key limes

1

tsp

Signature Select Brown Sugar

1

cup

Open Nature vanilla greek yogurt

¼

cup

shredded coconut
Instructions 
Start the Traeger to 350*
For the quiche
While the grill heats, prepare the quiches

Cook the sausage in a frying pan until cooked through and crumbled

Slice the red peppers into strips

Chop the broccoli and quickly steam/blanch until almost tender

Slice the green onions

Roll out the pie crusts into pie plates and trim the edges

In a big bowl, combine 8 eggs and most of the heavy whipping cream

Add 1 tbsp seasoning (or salt and pepper)

Arrange the filling in the pie crusts– one with peppers and sausage and the other with broccoli and onions. Top with ½ the cheese

Pour the egg mixture over the ingredients and top with more cheese

Place pie plates on cookie sheets and into the grills

Cook at 350* for 30 minutes, then check every 5 minutes until cooked through and set

Pull the quiches from the grill and allow to cool on the counter

Once cool, slice and serve

Turn up the Traeger to 425*
For the French toast
While the quiches cook and cool, prepare the french toast

Slice the bread on the bias

In a bowl, combine the remaining 4 eggs and the remaining heavy cream

Add the brown sugar and cinnamon and mix until frothy

Submerge the bread in the batter and turn to coat

When the grill is hot, quickly spray the grates with cooking spray

Place the soaked bread directly on the hot grates and cook for 5 minutes before checking or turning

Flip once to cook the other side

Remove the french toast from the grill and serve with butter and syrup
For the fruit skewers
Assemble the fruit skewers and dipping sauce

Thread fruit on wooden skewers

Place threaded fruit on the hot grill and cook for about 5 minutes until grill marks are present

Make the dipping sauce by combining the yogurt, juice from two key limes, zest from one lime, a bit of brown sugar and the coconut flakes

Serve the sauce alongside the grilled fruit skewers