Sponsored by Ace Hardware
As summer comes to a close, the weather has started cooling off here in Colorado and it's finally feeling nice enough to spend some time outdoors dining again. We've gotten through those few weeks of 90° days, and now the mornings and evenings are a little more crisp. It's been a welcome relief, and a good chance to spend a little more time with family as school has started up again.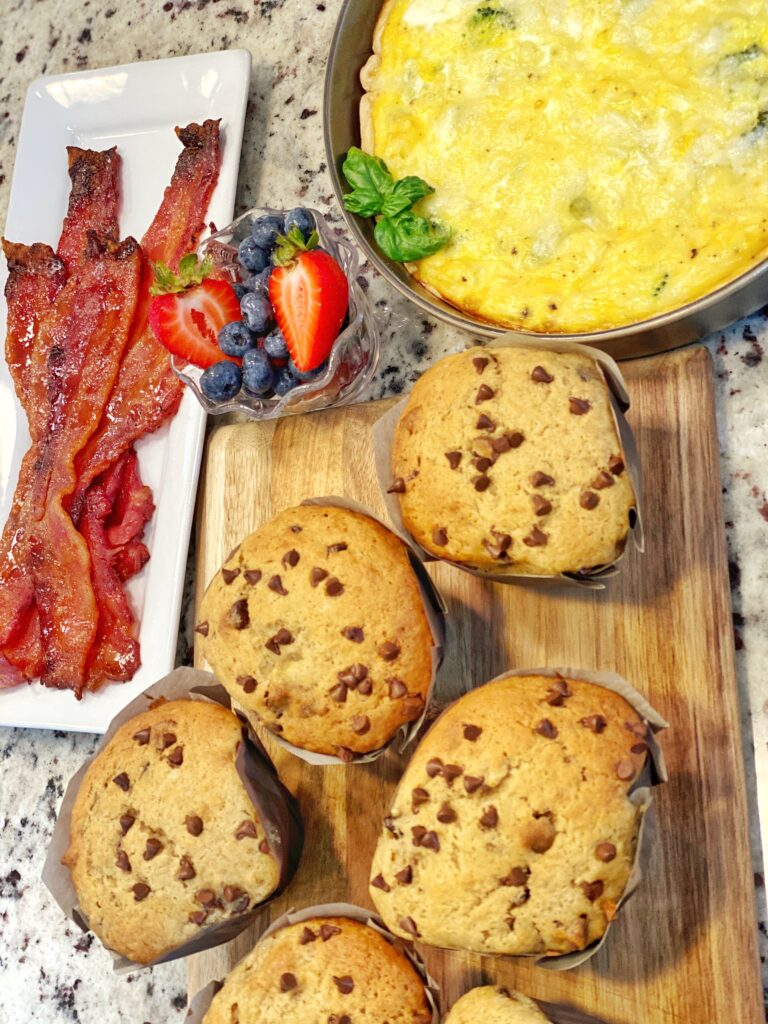 This past weekend, we hosted a small brunch with my parents in our backyard. Now brunch is one of my favorite meals, especially at a restaurant. But we've been spending more time at home, cooking and making delicious meals, and a Traegered brunch seemed like the perfect challenge. Rather than spending hours cooking and dirtying every dish in the kitchen, we wanted to make some delicious, fun and fairly easy dishes, all cooked on the Traeger, and all at the same time. Think it's possible? Absolutely. And in the time it takes to cook this entire meal on one Traeger grill, you have time to finish up the dishes, cut some fresh fruit and pour yourself a mimosa, if that's your style. 
For our Traegered Brunch, we made the following dishes:
Banana Chocolate Chip Muffins
Broccoli & Cheddar Quiche
Candied Bacon
The recipes for each are below, and I challenge you to find three delicious dishes you can cook in your Traeger all at once. With about 20 minutes of prep, we put all three things in the grill at the same time, and set the timer for 20 minutes. And in that short amount of time, everything was done, perfectly cooked, and ready to serve. It made for a Saturday morning family brunch that allowed us to sleep in AND serve an amazing meal for our family to enjoy all before the clock hit 10am. 
While we use our Traeger Grill to cook a lot of BBQ-focused meals, we have really found the grill to be amazing for baking too. Almost every baked dish that we make– both in summer and in winter– is done in the Traeger. So much so, that we could probably turn our indoor oven into storage. The convection cooking of a Traeger is unmatched. Most Traeger grills these days are built with Traeger's unique Tru Convection system. This design directs the heat and smoke in the grill through specifically-designed channels, creating a powerful vortex of heat and wood-fired smoke flavor as you cook. Foods cook more quickly in a convection setting, and when you cook at higher temperatures like we did for this spread, you have far less smoke flavor than the low-and-slow applications. You can still tell that your food has been baked with wood fired flavor, but you'd be hard pressed to tell if the dish was cooked in an expensive indoor convection oven or your Traeger on the patio. 
To make this epic Traegered Brunch, give yourself about an hour. The three recipes are listed below, but here's a general timeline of the process to make it super simple!
Timeline:
50 minutes before serving- gather all your ingredients and pans
45 minutes before serving- make banana chocolate chip muffin batter & spoon into liners
35 minutes before serving- line the pie plate with refrigerated dough. Place in Traeger as you preheat it to 375*
30 minutes before serving- make quiche filling and prepare candied bacon
25 minutes before serving- fill the quiche shell and place everything in the grill. Set a timer for 20 minutes 
In our Ironwood 885, we were able to fit a ½ sized cookie sheet (with the bacon), a full sized cupcake pan (with 6 muffins) and an 8-inch pie plate (with the quiche) all on the bottom rack
20 minutes before serving- wash the dishes, tidy the kitchen, set the table, cut some fresh fruit and make yourself a mimosa
5 minutes before serving- pull everything from the grill and transfer to serving platters
Go time- Serve brunch and enjoy!
Give this series of recipes a try– and invite some friends over for a backyard brunch before the snow starts flying!
Banana Chocolate Chip Muffins Makes 6 jumbo muffins
Thanks to Traeger rep David Nelson for his amazing recipe
Ingredients: 
2 cups flour
1 cup sugar
1 tsp baking soda
1/2 tsp salt
1/2 tsp cinnamon
1 stick butter, melted
3 ripe bananas
1/2 teaspoon vanilla
2 large eggs
Directions: 
Whisk together dry ingredients. In a separate bowl, combine melted butter with bananas, vanilla and eggs. Stir until smooth. Fold in dry ingredients and mix until just combined. Don't overmix it! Stir in chocolate chips and transfer heaping spoonfuls to cupcake pan with paper liners.  
Bake in Traeger Grill preheated to 375° for 20 minutes until golden brown on top. Allow to cool briefly before serving. 
TIP: If you have a 12-cup muffin pan, fill empty cavities halfway with water. This will help keep the cooking temperature of the pan even as they bake.  
Speedy Candied Bacon
Ingredients:
1/2 pound thick-sliced bacon
3 tbsp Traeger Pork & Poultry rub
3 tbsp maple syrup
3 tbsp brown sugar
Directions:
Line a cookie sheet with aluminum foil and place a rack in the prepared pan. Arrange bacon slices on rack and sprinkle both sides evenly with Traeger Pork & Poultry rub. Using a basting brush, brush bacon slices with maple syrup and then sprinkle with brown sugar. Flip and repeat with the second side. 
Bake in Traeger Grill preheated to 375° for 20 minutes, until just crispy. Serve immediately. 
Quick Broccoli-Cheddar Quiche Makes one 8-inch quiche
Ingredients:
1 store bought refrigerated pie crust
5 eggs
1/2 cup half and half
dash of hot sauce
Salt & pepper
1 cup broccoli florets, chopped small and blanched
1 cup shredded cheddar cheese
Directions: 
Line a small pie plate with the refrigerated pie dough. Crimp edges and place in Traeger grill as it preheats to 375°. 
Meanwhile, beat eggs with half and half until well combined. Add hot sauce and season with salt and pepper. 
When the grill has preheated, carefully remove the pie plate from the grill. Spread blanched broccoli florets evenly in the pie shell. Top with most of the shredded cheese. Pour in egg mixture and spread if needed. Top with remaining cheese. 
Bake in preheated Traeger Grill at 375° for 20 minutes until eggs are set and crust is golden. Slice and serve.