Now you wouldn't normally think that fried cheese sticks (think mozzarella sticks) cooked on the Traeger would be a thing. But I'm here to let you know that they are a thing and should be a thing you try. There's nothing quite as delicious as a melty, gooey stick of cheese, coated in breading and fried until golden and crispy on the outside and stringy on the inside. Dipped in some flavorful tomato sauce, and you have an amazing snack or appetizer. Fried cheese sticks on the Traeger… it's a thing. 
FRIED CHEESE ON THE TRAEGER? YUM!
Mozzarella sticks are the perfect bar food. Melty cheese, crispy outside, dunked in pasta sauce and just a tad greasy. I mean, we all need to indulge sometimes! With Truff's spicy pasta sauce, I thought that there was a chance to elevate the humble fried cheese stick a bit by serving it with such a tasty sauce. 
And then I realized I could elevate it further by using some Truff oil in the coating. We didn't have mozzarella on hand, but Oaxaca cheese is equally stringy and delicious and so we cut up a ball of that into stick-like pieces and went to town.
Frying these cheese sticks on the Traeger was a really smart idea. Cooking outdoors is my favorite activity, and my wife is particularly happy when I cook messy things outdoors. Deep frying anything is bound to be a messy endeavor and the Traeger makes it super easy and fairly quick cleanup– and your house doesn't smell like fried food afterward. So Traeger + fried cheese sticks = match made in heaven. 
PRIMARY INGREDIENTS
Mozzarella or Oaxaca cheese
Egg
Milk
Bread crumbs
Garlic Junkie seasoning
Truff Oil
Truff Spicy Arribiatta Sauce
Oil for frying
WHY COOKING CHEESE STICKS ON THE TRAEGER WORKS 
While this cook doesn't exactly use the skills of the Traeger in the typical sense (roasting, smoking, BBQing) it is a great recipe to try out on the Traeger because clean-up is such a breeze. Rather than frying the sticks in the house (where splatters, smells and messes abound), you can crank up the heat on your Traeger Grill to high (whether you're using a Ranger or one of the D2 grills) and get the oil in your cast iron pan super hot. 
Cooking it outdoors is fun and easy, and the splatters and messes that are possible are pretty much contained in within the Traeger. We've found that if you crank up the heat, get the cast iron pan pretty hot while the grill preheats and then add the oil, you'll have fry-able oil in no time. In this cook, we used our Traeger Ranger, but you can definitely do this on any of the Traeger models. A little time and patience to get the stuff ultra-hot and you're in for a good fry!
STEP-BY-STEP
Preheat your Traeger Grill to high heat (at least 400*).
Place the cast iron pan or Dutch oven in the grill (empty) to preheat with the grill. 
While the grill heats, prep the cheese. 
Begin by cutting the block of cheese into even matchsticks– about ⅓ inch square and about 2 inches long. Try to make them as even as possible.
In a series of bowls, arrange your breading elements.
Bowl 1: beaten egg and a splash of Truff oil
Bowl 2: flour seasoned with salt & pepper
Bowl 3: seasoned breadcrumbs with Garlic Junkie seasoning mixed in
Arrange a wire rack over a cookie sheet or tray.
Then, begin coating the cheese sticks by first rolling them in flour, then egg mixture, then breadcrumbs. Ensure that all sides are well coated and there are no gaps in the seasoning.
Arrange coated cheese on the prepared wire rack. Continue with the remaining cheese. 
Place cookie sheet/rack and coated cheese in the freezer for about 15 minutes until very cold.
While the cheese freezes, add oil to the preheated pan (about 1" deep). Allow the oil to get very hot.
When the cheese is very cold, fry the sticks in small batches in the hot oil. Turn to brown evenly. Try not to cook them too long or the melted cheese will start oozign out.
Transfer fried cheese sticks to a wire rack or paper towels, season with salt and arrange on a platter.
Continue cooking the remaining cheese sticks.
Serve with hot tomato sauce for dipping. 
SIMILAR RECIPES TO FRIED CHEESE STICKS ON THE TRAEGER
I love cheese and have found that cooking cheese, in a variety of forms and fashions, on the Traeger, has been really fun. 
Here are a couple other cheese-forward recipes I suggest you try out, cooked on the Traeger, of course:
Products used in this cook:
In this cook, we used our Traeger Ranger grill, which is small but mighty. The small area and cast iron plate make for a very effective hot cooking method. You could definitely do this with other Traeger grills too. 
Truff Oil and Truff Pasta Sauce
This is a little bit of a crazy recipe, but it turns out so delicious and fun. And what party isn't improved by melty cheese sticks dipped in pasta sauce? When you cook it on the Traeger, everything is better! 
Did you make this recipe?
I'd love to know how it turned out!
Leave a review below or snap a photo,
share it on Instagram and tag me at @ThisJewCanQue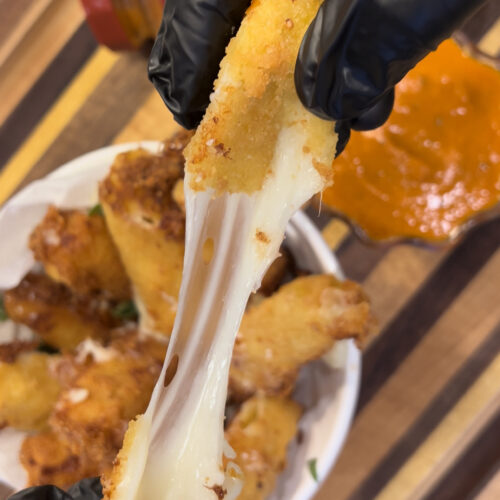 Fried Cheese Sticks on the Traeger
Crispy on the outside and unbelievably oozy and melted on the inside, these fried cheese sticks are the perfect indulgent treat to eat while watching a big game. Cooked on the Traeger, cleanup is a breeze!
Equipment
Traeger grill

Cast Iron skillet or Dutch Oven

Cookie sheet & wire rack
Ingredients  
1

pound

mozzarella or Oaxaca cheese

1

egg beaten

1/4

cup

milk

1

teaspoon

Truff oil

1

cup

flour

1

cup

bread crumbs

4

tablespoons

Garlic Junkie seasoning

2

cups

neutral oil for frying

Truff Spicy Arribiatta sauce for serving

Salt & pepper
Instructions 
Preheat a Traeger Grill to at least 400*

Place an empty cast iron pan or Dutch oven in the grill to heat with the grillPrepare the cheese while the grill preheats

Cut the block of cheese into ⅓ inch square matchsticks

In three bowls, prepare your breading ingredients: 1) beaten egg, milk and a splash of Truff oil 2) flour seasoned with salt & pepper 3) seasoned breadcrumbs with Garlic Junkie seasoning mixed in

Put a wire rack over a cookie sheet or tray

Coat the cheese sticks by rolling them in flour, then egg mixture, then breadcrumbs

Be sure that all sides are well coated and there are no gaps in the seasoning

Arrange the coated cheese on the prepared wire rack and continue with the remaining cheese

Place the cookie sheet/rack and coated cheese in the freezer for about 15 minutes until very cold and firm

While the cheese chills add the oil to the preheated pan (about 1" deep) and allow it to get very hot

Fry the sticks in small batches in the hot oil, turning to brown them evenly

Transfer the fried cheese to a wire rack or paper towels, season with salt and arrange them on a platter

Continue cooking the remaining cheese sticks and serve them with hot tomato sauce for dipping
Video