In partnership with Meater
Here's a recipe you might not have on your mind, but should definitely add to your "to cook" list… Traeger Smoked Pulled Goat Leg. In honor of Traeger's Gameday competition, when the prompt was "go big on protein" I took the challenge to heart. Give this recipe a try today, you'll be delighted by the delicious Mediterranean-inspired flavor of this tender pulled goat.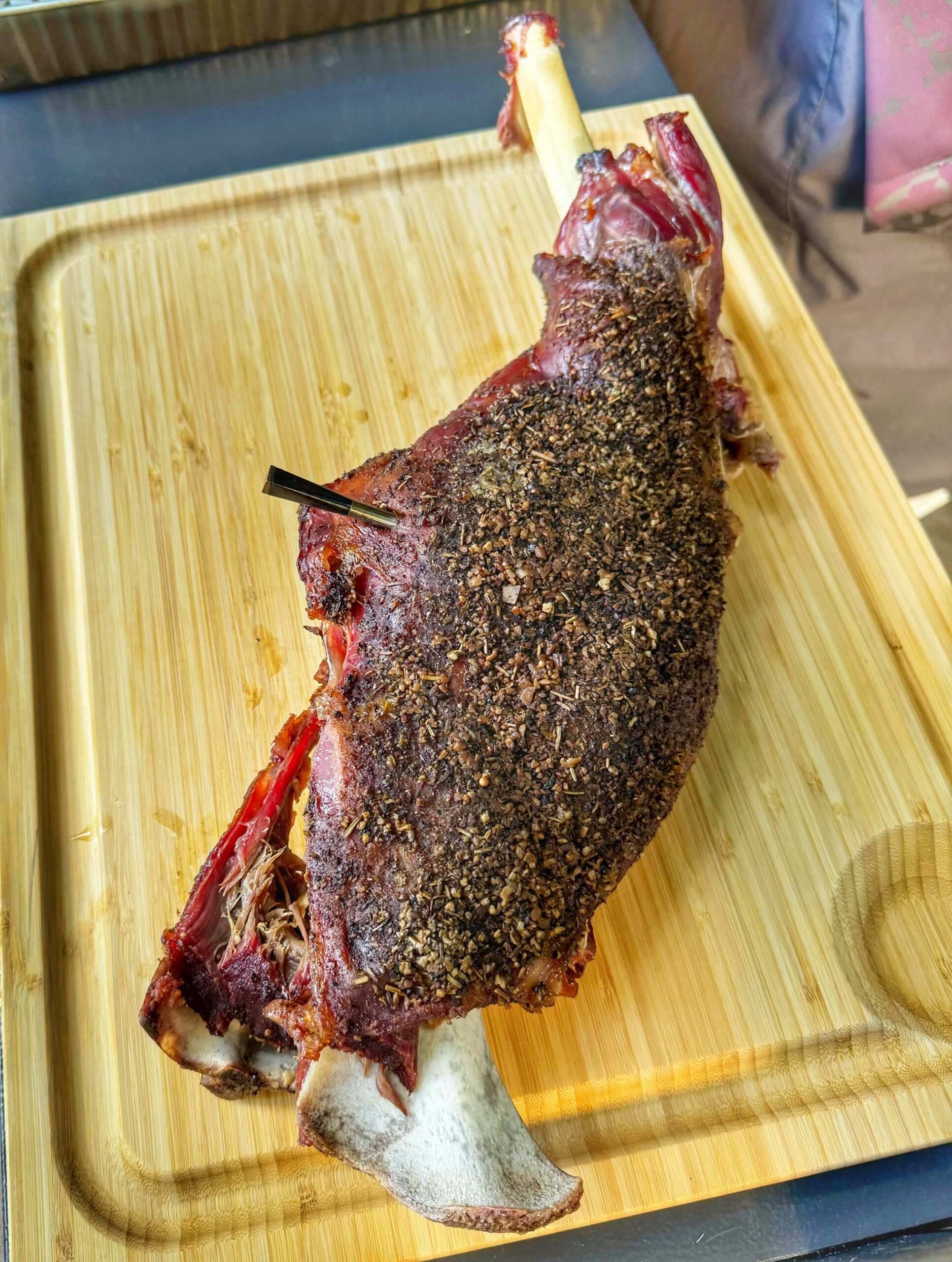 A WHOLE SMOKED GOAT LEG
That's right… we went big for this cook and used a whole goat leg for our starting point. Goat is a common protein around the world, but oddly uncommon here in the US. In reality, though, it is a perfect blank canvas for lots of flavor and all sorts of different cooking applications. Tender, lean and somewhat sweet, goat meat is known for not being "gamey" and is often found in a variety of ethnic dishes (think curries, etc.).
MEDITERRANEAN INSPIRED APPROACH
We wanted to go Mediterranean on our approach for the whole smoked goat leg, keeping the overall flavors fairly simple so that the meat could be used in a variety of ways. After all, we were in the process of smoking 8 pounds of goat (about 4 of that ended up being edible meat).
So for this cook, we used my Garlic Junkie seasoning as the starting point, knowing that it would have adequate salt, pepper, garlic and herbs to make a delicious crust on this meat. To the Garlic Junkie, I also added coriander, rosemary, oregano and basil. I used my mortar and pestle to grind the ingredients together to make a nice rub. You could definitely go just Garlic Junkie on this cook, but I think the herbs I added provided some more depth of flavor and interest.
WHERE TO FIND A GOAT LEG?
We headed to our local specialty butcher shop to find a whole goat leg. They had them on hand, but frozen, so call ahead to you favorite shop to see if they have what you're looking for. Knowing it would come frozen was important for us, so we gave ourselves adequate time to defrost the leg in the fridge (2 days or so) before seasoning and dry-brining it overnight in the fridge and then smoked.
HOW LONG IT TAKES TO SMOKE A GOAT LEG
This being our first foray in smoked pulled goat leg, we weren't sure how long it would take. But it took 4-5 hours to get to 165* and then another 3ish hours to get the final temperature of 203* in a braise. Give yourself adequate time for this cook– it can definitely rest in the oven or a cooler for a long amount of time and stay hot and safe to eat. We rested it about an hour before serving and it was still almost too hot to touch!
AND THE MEATER MAKES IT EASY
Cooking anything from a reverse seared marinated pork loin to this slow smoked pulled leg of lamb on the Traeger is extra easy when you use your Meater wireless thermometer system. Its paired app tracks the progress of the cook and provides you with prompts throughout the process about next steps, when to pull the meat, and an estimate on how soon your cook will be finished. Grab yourself a Meater today– it'll make everything easier!
PRIMARY INGREDIENTS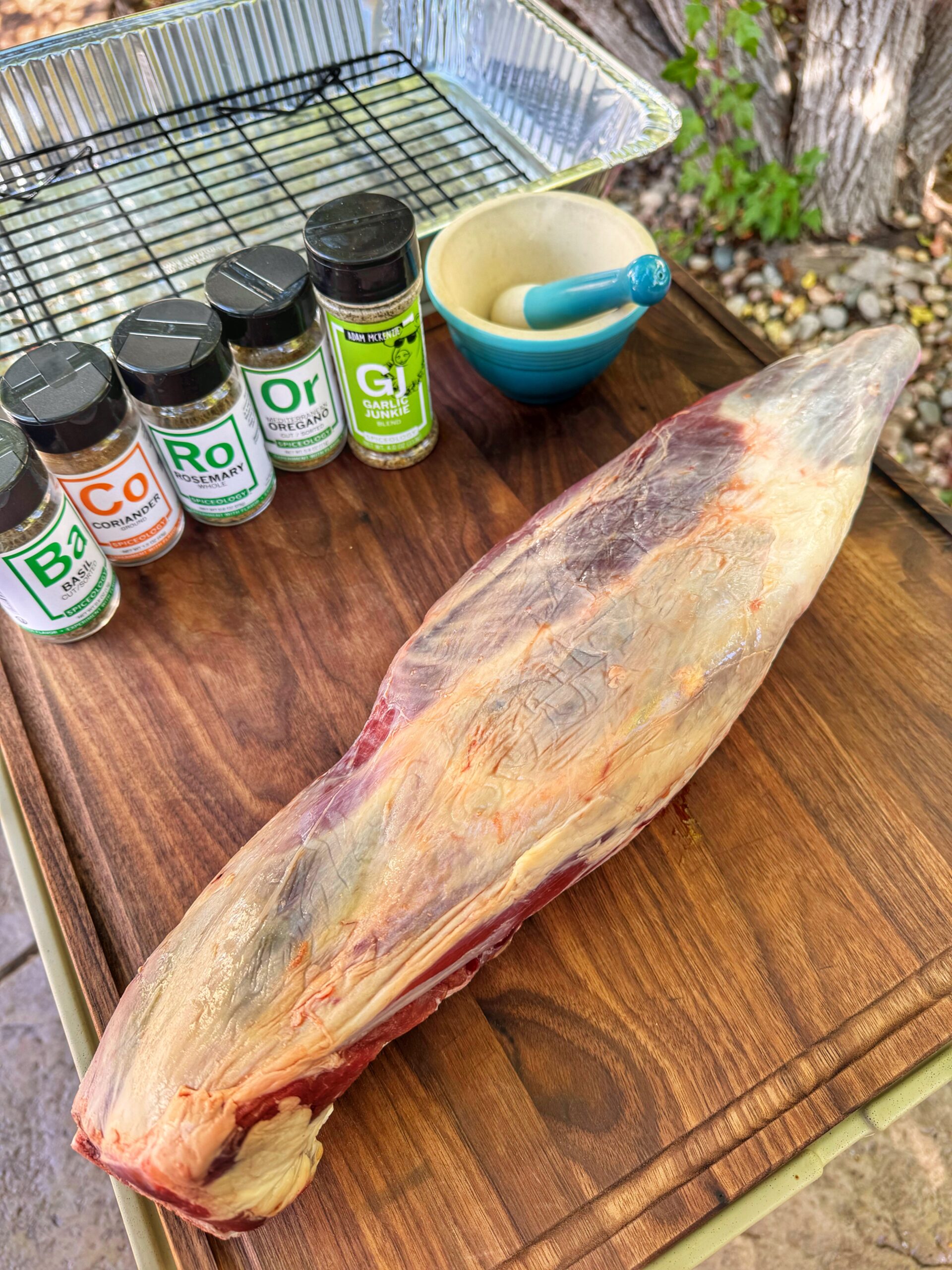 WHY COOKING A WHOLE GOAT LEG ON THE TRAEGER WORKS 
Something big like a goat leg deserves a big and flashy cook. By doing it on the Traeger, you not only come out with amazing, delicious results, but you do so outdoors on an amazing grill. The low-and-slow technique for this goat leg, done on the Traeger for many hours, results in super tender, flavorful and still juicy meat that is usable in lots of applications.
We used the Traeger Timberline XL for this cook, paired with our Meater wireless thermometer system. The Traeger is big enough to handle a whole goat leg, and when used along with the thermometer system, you can cook the meat at a low temperature while tracking every step of the cook. It comes out perfectly every time, and is tech-enabled allowing you to track your cook on your phone from near or far.
STEP-BY-STEP
ALTERNATE RECIPES/PRODUCT LINKS
Here are some other pulled meat recipes to give a try, once you've tried the Traeger Smoked Pulled Goat Leg:
Products used in this cook:
Did you make this recipe?
I'd love to know how it turned out!
Leave a review below or snap a photo,
share it on Instagram and tag me at @ThisJewCanQue
RECIPE CARD PLUGIN
Traeger Smoked Pulled Goat Leg
A whole goat leg is seasoned and smoked, then braised in a flavorful liquid until fall-apart tender. Use this sweet and tasty meat in a variety of applications– we especially liked in on a pita with tomato/cucumber salad, hummus and tzatziki sauce.
Equipment
Traeger grill

Aluminum pan

Foil

Meater Thermometer system

Knife and cutting board

Mortar and pestle
Ingredients  
1

Whole goat leg

about 8 pounds

1

cup

My Garlic Junkie seasoning

4

tbsp

each dried basil

rosemary, oregano and coriander

1

bottle dry white wine

1

white or yellow onion

3

cups

beef broth
Instructions 
The night before cooking, unwrap the leg of goat and season it generously on all sides.

Place the goat leg on a wire rack over a cookie sheet and return it to the fridge, uncovered, overnight.

Preheat your Traeger grill to 225* with the super smoke feature enabled.

Remove the goat from the fridge and place a Meater probe in the thickest part.

Pair the probe to the app and set for a target temperature of 203*. Use the app to guide your temperature selection based on the meat you're using (the Meater app has a goat leg option).

Place the meat in the grill and close the lid.

Allow the goat to smoke at 225* until the internal temperature reaches about 165*. This took about 5 hours.

In a large foil pan, combine the onion, white wine, beef broth and more of the rub.

Submerge the goat leg in the braising liquid and cover the pan tightly with foil.

Return the pan to the grill and continue cooking at 275* until it reaches an internal temperature of 203*.

This could take about 3 more hours.

When the meat reaches 203* as identified by the Meater app, remove the pan from the grill and allow the steam to release from the pan.

Recover the pan and allow the meat to rest for about 20 minutes.

Using gloved hands, shred the meat off the bone, discarding any fatty or sinewy pieces.

Serve your Traeger Smoked Pulled Goat Leg like you would other pulled smoked meats– on a sandwich bun, as a taco filling, or on a pita for a Mediterranean-inspired meal.