A partnership with Rocky Mountain Ace Hardware stores.
At our house, we try to cook some part of every meal on our Traeger Grill. That may sound a little crazy, but we are just so impressed by the versatility that it provides, and the many ways it helps us keep our kitchen clean(er) and cool. Especially in the summer, we make a point of cooking on the grill at least 5 nights a week. On the weekends, sometimes we do brunch and dinner. And usually a long cook whenever we can. Traeger talks about the 6-in-1 versatility of the product—grill, smoke, braise, bake, roast, and bbq—and you really can do all of that and more in your grill. For dinner parties, we often do the whole thing—appetizer to desserts—just to impress our guests!
How do you find inspiration to cook almost everything on the grill? Well usually we turn to the Traeger Grills App as our first point of inspiration. Generally, most any recipe you have can be adapted to work on the grill, but we use the app often to figure out what's for dinner. Not only are there amazing recipes on the app, but the "Cook Now with Grill Guide" feature in the app connects with the newest Traeger grills with D2 drive train and WiFi. It's totally incredible—click a button on your app when your grill is on, and the app does the rest. You are certain to have perfectly-cooked, delicious and wood-fire flavored food in no time with the support of the app. 
For this dinner, my wife was certain she wanted an Asian-style salmon on the Traeger. A quick search brought up the Sweet Mandarin Salmon recipe on the app, I clicked the "Grill Now" button on the app, and we were on our way. 
As with most recipes, I put my own spin on them a bit, and this recipe was no different. Traeger no longer makes the mandarin glaze referenced in the app, so I whipped up something similar. Quickly marinate the salmon in the glaze, place skin-side down on some pink butcher paper, and pop it in the grill. In no time, you have perfectly-cooked salmon for dinner. We served this with some rice noodles and veggies in a homemade Thai peanut sauce. 
RECIPE:
On the Traeger app, search for "mandarin" and the Sweet Mandarin Salmon recipe comes up. A click of the "Cook Now with Grill Guide" button preps your D2 Traeger grill to the perfect temperature and time. 
Ingredients: 
2 Salmon portions
Homemade mandarin glaze (see below)
Cilantro leaves for garnish
In a blender, combine the following ingredients:
1 cup canned mandarin oranges in juice
¼ cup brown sugar
Juice of 2 limes
3 cloves garlic, crushed
1 tablespoon fresh ginger, grated
2 tablespoons green sriracha sauce (or red if that's what you have )
1 tablespoon rice wine vinegar
¼ cup soy sauce
Transfer to a small sauce pan and heat over medium. Stir in 1 tbsp corn starch mixed with 1 tbsp cold water (in a slurry) and cook for 5 minutes until slightly thickened. Cool completely.
When glaze is cooled, pour most of it over salmon portions in a shallow glass container. Allow to marinate for 15 minutes. Reserve about ¼ cup of glaze for later use. 
Prepare a square of pink butcher paper to fit in the grill. Transfer marinated salmon to butcher paper and place in grill. Cook until nearly done, and brush once with reserved glaze. 
If cooking on a pellet grill wasn't easy enough, the amazing features of the D2 grills with WiFi paired with the Traeger app make wood-fired dinner possible every night. Enjoy!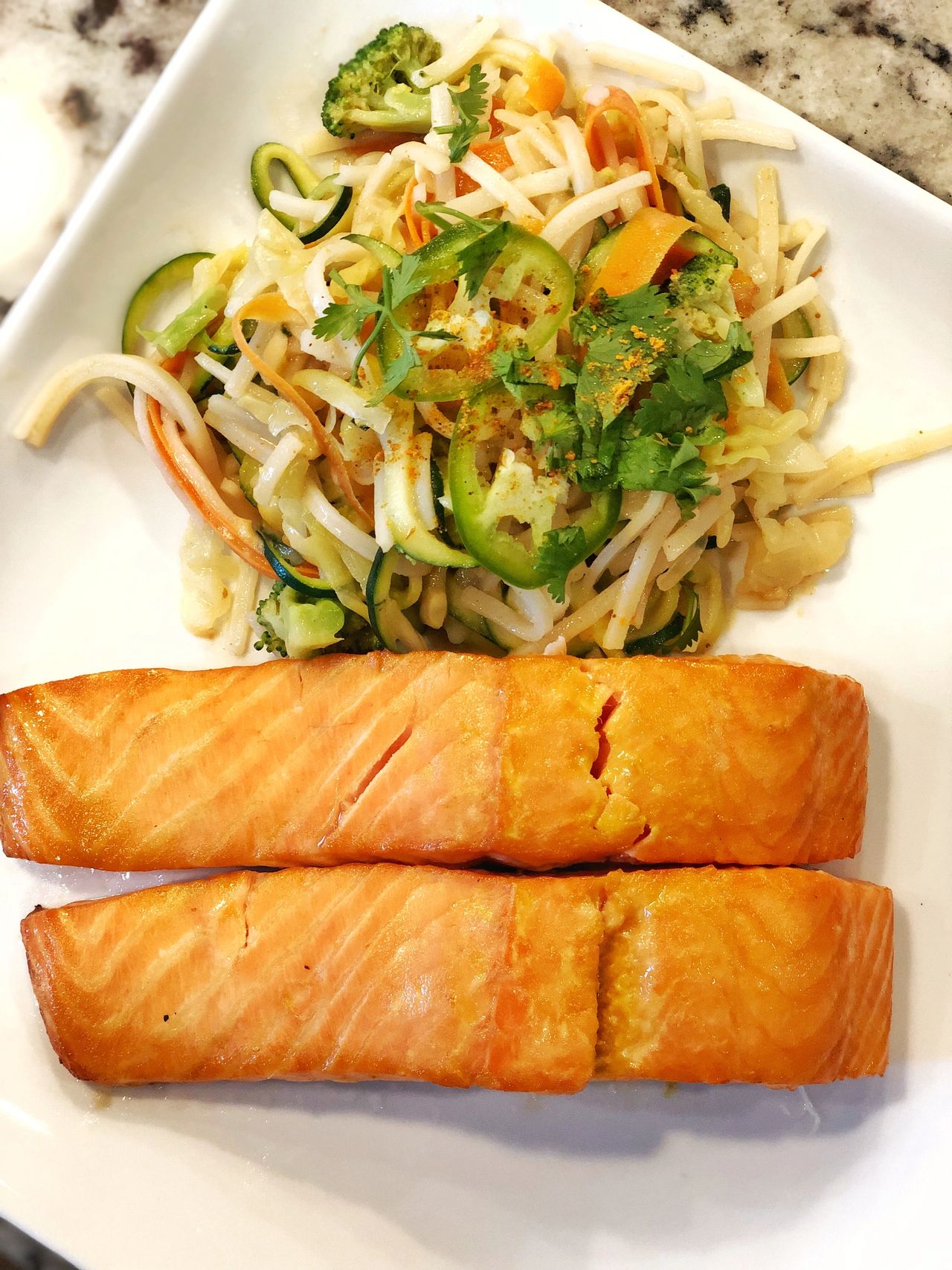 Mandarin Salmon
A delicious salmon dish with a citrus marinade
Ingredients  
2

portions

salmon

handful

cilantro leaves for garnish
Mandarin Glaze
1

cup

canned mandarin oranges in juice

do not drain!

¼

cup

brown sugar

2

limes

juiced

3

cloves

garlic, crushed

1

tbsp

fresh ginger, grated

2

tbsp

green sriracha

or red sriracha

1

tbsp

rice wine vinegar

¼

cup

soy sauce
Slurry for glaze
1

tbsp

corn starch

1

tbsp

cold water
Instructions 
Make mandarin glaze
in a blender, combine all ingredients except salmon and cilantro.

Transfer sauce to a small sauce pan and heat over medium.

In a small bowl, combine corn starch and cold water and stir until smooth.

Stir in cornstarch slurry to sauce in pan.

Continue cooking for 5 minutes until slightly thickened.

Remove from heat and allow to cool completely.
Prepare salmon
When glaze is cool, pour most of it over salmon portion in a shallow container.

Allow to marinate for at least 15 minutes.

Reserve about ¼ cup of glaze for later use.

Transfer marinated salmon to a square of prepared butcher or parchment paper.

Place on grill preheated to 400°.

Cook salmon on grill for 15-20 minutes, until it reaches an internal temperature of 155°. Brush with reserved glaze once during cook.