On Saturday, I am hosting a Traeger Turkey demo day at my local McGuckin Hardware store in Boulder, CO. A family-owned hardware and housewares store, McGuckin might actually be able to say that they actually have a bit of everything in the store. From kitchen wares to paint to Traeger's and Christmas decor, they also have aisles full of thoughtful gifts, local goods and beautiful clothing. It's truly a one-stop-shop.
With Thanksgiving coming up quickly, this is the perfect opportunity to share with McGuckin's shoppers a few tricks and tips for terrific Thanksgiving turkey on the Traeger. Say that a few times fast! 🙂
TRAEGER TURKEY IS THE GOLD STANDARD
This time of year, we estimate we'll cook between 8 and 10 turkeys by New Year's Eve. With lots of holidays coming up, family gatherings of all types and sizes, and the reputation that a Traeger turkey has in our circles, it's little wonder that we seem to always have a turkey defrosting in our garage fridge. Here in Colorado, its' incredibly hard to find whole turkeys in the grocery store outside of the mid-October to January window, so we go all-in this time of year to get our bellies full and lots of content made up.
I'll never forget the first Thanksgiving when we had a Traeger. I was so excited to cook up a turkey on the smoker and my wife was skeptical. She comes from a family where turkey is traditional and cooked in the oven. One of her fondest memories was how every summer when they'd go visit her grandparents in Connecticut, her nana would make a full thanksgiving dinner during their visit. Smack in the middle of summer– turkey, potatoes, and all the fixings. Obviously, on the east coast it's easier to find turkeys year-round.
Anyway, the first Traeger turkey year was matched with an oven turkey, because they just weren't sure. But the flavor, juiciness and tenderness of my Traegered turkey has won them over and now that's all we do. The benefit of cooking a turkey on the Traeger is that you can control the amount of smoke flavor. By cooking the birds over 325*, the amount of smoke produced by the grill is minimal anyways, so it's much more reminiscent of an oven roasted turkey than a smoked turkey.
Regardless, you'll soon find that a turkey on the Traeger becomes the gold-standard in your family holiday, too.
TOP TIPS FOR TURKEY ON THE TRAEGER
1. PLAN AHEAD
Give yourself plenty of lead time for the big turkey day. We like to defrost our turkeys in the fridge for 5 days or so, and they still come out of the packaging a little frosty. While there are ways you can defrost a turkey more quickly, the easiest and safest way to do it is time in the cold fridge.
Additionally, the last thing you want on Thanksgiving day is for everything to be ready and everyone sitting around waiting for the turkey to finish cooking. So create a timeline working backwards to figure out when to put the turkey on the Traeger.
2. BRINE
Whether you choose to wet brine or dry brine your turkey, this old-fashioned sounding trick is key to my turkey successes. In as little as 6 hours, a turkey can really become more juicy, flavorful and have an incredible crispy skin result with a brine.
Wet Brine:
A flavorful mix of seasonings and salt, some alcohol like bourbon (if you want) and some citrus. Submerge the turkey in the salty bath along with ice and let it soak for up to 18 hours. You can buy brine mixes this time of year and the Traeger turkey pellet kit comes with a brine packet.
Dry Brine:
You can make your own with a blend of salt, seasonings and spices or cut the corner and buy a bag of pre-made brine. Coat the turkey generously with the seasoning and put it back in the fridge, uncovered, for up to 3 days. No need to rinse the brine off when you're done– just be sparing with the additional seasonings to account for the brine's flavorings.
3. SPATCHCOCK
This silly sounding word makes all the difference when Traegering a turkey. By cutting out the backbone and pressing the turkey flat, you increase surface area (flavor) and remove the cavity (purposeless space to heat), resulting in a turkey that cooks more quickly and evenly.
All you need to effectively spatchcock a turkey is a sharp heavy knife (like a cleaver) and a pair of sharp kitchen shears. Cut through the turkey on either side of the backbone (about 1 inch apart) and remove it entirely. Flip the turkey cavity side down on the cutting board and press firmly in the center of the breasts. When you hear a crack and the turkey lies flat, you know you've done it right!
4. TRAEGER
An obvious tip– but until you've done a turkey on the Traeger, you may not be convinced. The design of the cooking chamber creates an incredible convection oven for cooking. The wood pellet fuel that runs the Traeger imparts a smoky, flavorful tone to the cook. And the cleanup is a breeze because you're cooking outdoors. If you plan accordingly and/or have multiple Traegers in the backyard, you might not even need to turn on the oven for this Thanksgiving feast!
5. TEMP NOT TIME
Like all BBQ, the food is done when the temperature says it is. And this is very much the truth with turkey on the Traeger. Use a Meater wireless thermometer system to instantly track the progress of the turkey throughout the cook. But don't rush it– a defrosted, brined and spatchcocked turkey cooked on the Traeger could take anywhere from 2-4 hours to cook. Which is fast in comparison to other methods… but give yourself time to do it right!
The temperature goals: 165* for the breast and 175* for the thigh.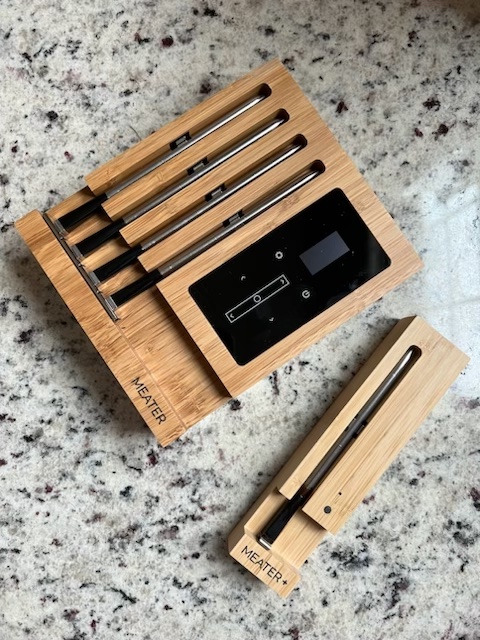 6. SMALLER IS BETTER (MAKE 2!)
I like to shoot for turkeys in the 14-16 pound range. They are big enough to provide a good amount of meat off the bone, but not so big that they're difficult to manage, take a long time cooking, or come out particularly tough. So if you're cooking for a crowd, plan on two smaller turkeys with terrific results. The bonus of cooking two birds? You can try different techniques, seasonings, etc. and your dinner guests can try variations on turkey.
7. LET IT REST!
As noted before, don't let the turkey be the thing making the dinner timing tight. Give yourself time when cooking the turkey so that it's off the grill well in advance of serving time. When using the Meater thermometer system, you can get a live countdown on estimated cooking times you have a place to start. But remember that once cooked, a terrific turkey can be held, hot, for a least an hour before serving. Put it in a cooler if you need longer– but resting a turkey is a MUST do so that the juices you've worked so hard to create (through brining and smoking) can redistribute throughout the meat.
8. SHARP KNIVES
If you do one chore before Thanksgiving, I suggest you ensure your knives are all sharp. You can do this at home, or take your selected set to a store like McGuckin's to have the professional sharpened. The ReSharp machine at many hardware stores produces incredible results.
Not only will it be easier to carve your turkey with a sharp knife, it's incredibly dangerous to cook with dull equipment– you're much more likely to slip and cut yourself when the knife is dull.
SOME RECIPES TO INSPIRE YOUR MENU PLANNING
NEED HELP OR ADVICE? DROP ME A LINE!
Teaching people about cooking on the Traeger is one of my favorite parts about ThisJewCanQue. As an elementary/middle school STEM teacher by day, I have devoted my life's work to education and opportunity. And just by chance, this social media platform has become a way to extend my teaching.
And I love cooking turkeys on the Traeger. So if you have a question, need advice, are seeking a recipe or want some moral support, I'm here for you! Drop me an email or a message on Instagram and let me know you read the blog. I'll be happy to help you however I can, because your family should love turkey at Thanksgiving, not tolerate it!
SOME KEY PRODUCTS FOR TRAEGER TURKEY SUCCESS
Here are some products I swear by for Traegered turkey success.
Did you make a Traegered Turkey?
I'd love to know how it turned out!
Leave a review below or snap a photo,
share it on Instagram and tag me at @ThisJewCanQue