In Partnership with Rocky Mountain Ace Hardware Stores
If you keep an eye on food trends, you're likely to have seen that one of the current trends is a type of slow-cooked meat called Birria. Taco trucks are popping up with it, here in Denver there is one that has fusion food– Pho and Birria– and it's becoming common on restaurant menus too.
So I figured, why couldn't we make Birria at home, on our Traeger Grill from our neighborhood Ace Hardware store, to achieve a similar tasty result? Smoke the meat for a while, then slow-cook it in the rich and flavorful broth until fall-apart tender on one of my D2 Traeger grills. Then use my Traeger Ranger with the cast iron griddle to whip up some amazing, super-cheesy tacos for family and friends to enjoy.
This is the ultimate backyard comfort food. Perfect for a meal in summer or winter, but if you're able to enjoy it on a warm summer evening with a cold beer, you might just think you're on vacation.
For this cook, I used two different Traegers that I got from my local Ace Hardware store. It's easy to buy a grill and start cooking right away with Ace's free assembly and delivery on grill and accessory purchases over $399. As an Ace Rewards Member, this service is such a great bonus and available to you, too!
While this cook could easily be done on one grill from start to finish, I decided to use two different Traeger models to demonstrate the versatility of them. The first two steps– smoking the meat and cooking low and slow– happened on my Traeger Ironwood 885. It's great because I can control the temperature of my grill using my phone or Apple Watch– so for those longer cooks it's the perfect device to get cooking and then go about your day. I kept an eye on my cook while we ran some errands where we grabbed some pellets from the store– buying online and picking up curbside!
For the third step in this recipe– cooking the tortillas, melting cheese and assembling the tacos, I used my Traeger Ranger. It's small, compact, and gets super hot. Perfect for sizzling and searing. But I sometimes just put a Lodge Cast Iron griddle in my Ironwood and it can get equally hot and effective for this step!
The great part is that your neighborhood Ace Hardware stores will have all the grills and accessories you need to create an amazing meal in your backyard in no time. Find your local Ace Hardware store here!
Filling up the Food Airwaves
We've seen Birria recipes popping up everywhere lately, including a feature in the NYT food section this week.
There have also been articles in a number of other publications if you want to read more about the trend.
Bon Appetit, Denver Westword, Texas Monthly, 303 Magazine
Really Flavorful Ingredients Make it Great
While the list of ingredients seems fairly long, almost all of it is stuff you have in your kitchen. It'll take a short amount of time to prep the sauce, and then you simmer the smoked meat in the sauce for several hours until you have the perfect tender meat.
Our Birria recipe includes:
A large piece of chuck roast
Juice of a lemon and a lime

A good dose of flavorful beef rub, to season the meat

12-15 large dried peppers (found in the spice or Latin foods aisle of most grocery stores). We used a mix of Chiles de Arbol, Guajillo, Ristra, and Birds Eye.
1 large white onion, sliced in quarters
1 whole fresh jalapeno
3 cloves of garlic
1 large can of crushed tomatoes
3/4 of a can of Chipotles in Adobo
1-2 cups of beef broth
1 cup boiling water
Whole cloves
2 cinnamon sticks
2 bay leaves
A handful of cumin seeds
Mexican oregano
A splash of apple cider vinegar
THE PROCESS FOR BIRRIA TACOS
We began by starting up our Traeger Grill– the Ironwood 885 with D2 technology– to 225*. While the grill got hot, we prepped the chuck roast by coating all sides first in a mixture of lemon and lime juice and then a heavy seasoning of our selected beef rub. The one we chose had a Mexican-bent, with chili powder, garlic, cumin and lots of pepper. We then put the roast right on the grate in the grill and shut the lid– allowing it to bathe in the Traeger wood-fired smoke for about 90 minutes.
After 90 minutes of smoking, we added to the grill our dried and fresh peppers and the onion, cut in large rings. We used a cookie sheet to keep the peppers from falling through the grates. Everything cooked for another 30 minutes, which softened the onion, warmed and softened the peppers and gave everything a little more smoky boost.
After about 30 minutes on the grill, we transferred the peppers and onions to a large cast iron Dutch Oven (the one we'd use later for the meat) and submerged them in boiling water. If the peppers won't stay in the water, use a small plate and something heavy to keep them in the hot water. They need about 20 minutes to soften. Leave the meat on the smoker while you prep the sauce.
MAKE THE SAUCE
We pulled out our Vitamix blender and used that to make the sauce. Use scissors to snip off the stems from the soaked peppers, then combine the peppers and onion, the juice from the pot, the tomatoes, Chipotles in adobo, apple cider vinegar, beef broth and garlic and blend it all up until very smooth.
Transfer the sauce back to the Dutch oven, and add a little more beef broth to thin it out if necessary. Then submerge the smoked Chuck Roast in the sauce. Then we stirred in the whole cloves, cinnamon sticks, bay leaves and cumin seeds. Give everything a good mix and put on the lid.
SIMMER UNTIL FORK TENDER
Back in the smoker it all goes for 2-4 hours until the sauce has reduced and the meat is fork tender. For this step, we cranked up the heat of the grill to 300*. Our 3-pound chuck roast took just about 3 hours to become tender enough to shred– let it go a little longer if you want it to really fall apart.
We carefully transferred the Dutch oven out of the grill and moved the meat to a separate pan to shred it in. Then we strained the sauce through a mesh strainer, which left us with a smooth, broth-based consomme, which is typical of a traditional Birria recipe.
TIME FOR TACOS
These tacos are really easy to assemble and enjoy– and make a lot, because your family and friends will devour them.
Fresh handmade flour tortillas from Caramelo
Lots of shredded Qaxaca cheese
A little oil or cooking spray
Chopped white onion, cilantro, jalapenos and tomatoes for garnish
ASSEMBLY
Once the beef is shredded and the sauce is strained into a consomme, you're ready to assemble the tacos. We did it on our Traeger Ranger, which has a great cast-iron griddle, perfect for making these tacos.
Begin by putting about half the consomme sauce in a wide, shallow bowl. Heat up your Ranger to high and spray the griddle with just a touch of oil.
Using tongs, dip the uncooked tortilla in the bowl of sauce, covering both sides, then put it right on the hot griddle. Once the tortilla starts to bubble, flip it over to cook the second side. Cover it in a generous handful of shredded cheese and then a scoop of shredded beef. Fold the tortilla in half and grill both sides until the cheese is melty.
TIME TO EAT
We loaded up these tacos on a big platter with a bowl of the hot consomme on the side for dipping. Garnish them with chopped onions, jalapenos, tomatoes and cilantro and a bunch of wedges of lime. Be sure to dip them in the sauce and enjoy!
NO TIME FOR LONG BIRRIA?
If you're short on time but interested in ultimate flavor, try out this recipe I recently shared for quick birria tacos on the Traeger Flatrock!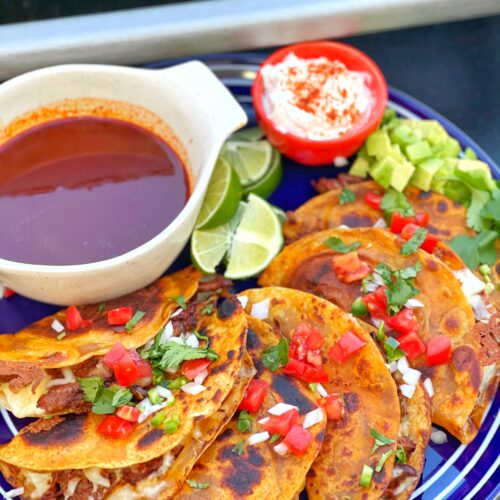 Cheesy Birria-Style Tacos
The flavorful shredded beef for these tacos is cooked for several hours in your Traeger, getting an amazing smoky flavor.
Equipment
Traeger Pellet Grill

cast-iron Dutch oven

Cast iron griddle to go in your grill, or a Traeger Ranger

Mesh sieve
Ingredients  
Smoked Beef Roast
2-3

pounds

beef chuck shoulder roast

juice of one lemon and one lime

4-6

tbsp

beef seasoning blend

pick something with Mexican spices like chili powder, cumin and oregano
Birria Stew/Sauce
12-15

dried Mexican peppers

a combination of Chiles de Arbol, Guajillo, Ristra, and Birds Eye work great

1

whole fresh jalapeno

1

large

white onion, cut into ¼ths

1

large can

crushed tomatoes

¾

can

Chipotles in adobo sauce

1-2

cups

beef broth

1

cup

boiling water

1

tbsp

dried oregano

3

cloves

garlic

1

tbsp

cumin

⅓

cup

apple cider vinegar

2

bay leaves

2

cinnamon sticks

2

tbsp

whole cloves

2

tbsp

cumin seeds
Taco Assembly
12

fresh, uncooked flour tortillas

3

cups

shredded Oaxaca or quesadilla cheese

cooking spray or oil

¼

cup

finely diced white onion

¼

cup

chopped cilantro leaves

½

a jalapeno, finely chopped

¼

cup

chopped tomato

¼

cup

sour cream

wedges of lime for serving
Instructions 
Preheat your Traeger Grill to 225°/Super Smoke.

While the grill heats, coat the beef roast with lemon and lime juice and then season heavily with your selected rub.

Place the meat directly on the grate of the grill and allow to cook for 90 minutes.

Arrange dried peppers on a cookie sheet, and place cookie sheet and sliced onions directly on the grill. Allow to cook for 30 minutes.

Remove peppers and onions from grill, put in a Dutch oven pot and sumberge in boiling water. Allow to sit for 15-20 minutes.

Using scissors, remove stems and some seeds from the soaked peppers. Place in the vessel of a blender along with the sauce ingredients through apple cider vinegar.

Blend on high until very smooth. Then transfer back to the Dutch oven.

Remove roast from Traeger and place in the sauce. Add some more beef broth to thin out the sauce and cover the roast.

Stir in the last sauce ingredients (bay leaf, cinnamon stick, cloves and cumin seeds).

Cover Dutch oven and return to the grill at 300°.

Cook for 2-4 hours until the beef is fork tender and temperature is between 205° and 210° internally.

Transfer the beef to a tray for shredding.

Pour the sauce through a mesh sieve to strain and return strained sauce to the stove to keep warm.

Preheat Traeger Ranger with a cast iron griddle (or your other Traegers with a griddle in it) on high until very hot.

Assemble tacos by dipping tortillas in the strained sauce, then placing them on a lightly oiled griddle.

Cook until starting to bubble, then flip and cover with cheese.

Add shredded beef and fold over, continuing to cook until everything is hot and melty.

Serve tacos on a platter with hot consomme/sauce, and dressed with toppings like diced jalapenos, diced onions, diced tomatoes, chopped cilantro, avocado chunks and wedges of lime.