Smoked cream cheese has become a really popular dish cooked on the Traeger lately, and I decided to take that `Crab cheese wontons are one of my favorite things to get from a Chinese restaurant. They're always a hit in the restaurant and I wanted to take a stab at making these at home on the Traeger. 
CRAB + SMOKED CREAM CHEESE + CRISPY WONTONS = YUM
Using two of the features of the new Traeger Timberline XL grill, I knew that this recipe would turn out fantastic. The super smoke feature provides that extra boost of wood-fired flavor when I smoked the cream cheese. And the external induction burner attached to the grill makes cooking things like fried wontons a breeze because cleanup is quick and easy and the mess and smell of frying in the house is eliminated. When you combine these features with a great recipe for smoked crab cheese wontons, you are guaranteed a great dish.
PRIMARY INGREDIENTS
wonton wrappers
Korean BBQ seasoning or another Asian style rub
block of cream cheese
green onions, chopped
Lump crab meat 
Egg
Oil for frying
WHY COOKING SMOKED CRAB CHEESE WONTONS ON THE TRAEGER WORKS 
The act of smoking cream cheese has taken the cooking (and social media) world by a storm. It's a unique way to add an extra dimension to dishes that include cream cheese. In addition, its a great way to bring some wood-fired flavor to cream cheese and elevate it from a humble appetizer. There's something delicious and simple about cream cheese with a jelly or jam– preferably spicy– served with crackers. 

But I digress. This is another take on smoked cream cheese which incorporates it as a central part of another delicious dish– smoked crab cheese wontons cooked on the Traeger. 
Crab cheese wontons are the perfect appetizer– crisp shells filled with flavorful cream cheese studded with chunks of crab. Add some thinly sliced scallions for a bit of extra flavor and served with sweet chili sauce and you have one of my favorite dishes. We've tried purchasing frozen versions at the grocery store to cook at home, and have been less-than-impressed with those options.
So, to make our own take on one of my favorite dishes, we turned to our trusty Traeger to add flavor and make it a fun cook. Smoked cream cheese + real crab + crispy shells fried on the Traeger and you have a delicious snack. 
Because of the popularity of smoked cream cheese these days, it seemed like the perfect way to repurpose that cook into something different would be to make Smoked Crab Cheese Wontons on the Traeger. The slightly smoky flavor comes through in the filling just enough to know that it was cooked on the Traeger. Using real crab (instead of imitation crab) makes these a little "fancier" and really really delicious. 
STEP BY STEP
Preheat the Traeger to 225* and turn on the super smoke if you have the feature
Score the cream cheese in a crosshatch pattern on top
Season all the sides with the Korean BBQ seasoning
Place the cream cheese on a piece of butcher paper or a baking tray and place into the smoker for two hours
Once the cream cheese has smoked, remove it from the grill and allow it to cool briefly
In a mixing bowl mix the smoked cream cheese, chopped green onions and crab meat together
Beat an egg in a small bowl
Begin preheating about 1.5 inches of vegetable oil in a dutch oven or pot
Place a spoonful of the cream cheese mixture into the center of a wonton wrapper
Brush the edges of the wonton wrapper with the egg 
Bring the corners of the wrapper up and towards the middle- pinch tightly seal all the edges
When the oil reaches a temperature of 350*, you are ready to begin frying the wontons
Place a few wontons carefully in the oil and fry for about 2 minutes
Flip the wontons over in the oil and continue cooking until golden brown on all sides
Remove the fried wontons from the oil and drain on paper towels
Repeat with remaining wontons
Serve on a plate with your preferred dipping sauce (I like sweet chili sauce)
OTHER WAYS TO USE TRAEGER SMOKED CREAM CHEESE
Smoking cream cheese is a delicious way to take a simple and humble ingredient and bump it up a notch. 
In addition to just serving smoked cream cheese with fruit jam, spicy jam or fruit compote, here are some recipes we like that also use cream cheese.
Products used in this cook:
Did you make this recipe?
I'd love to know how it turned out!
Leave a review below or snap a photo,
share it on Instagram and tag me at @thisjewcanque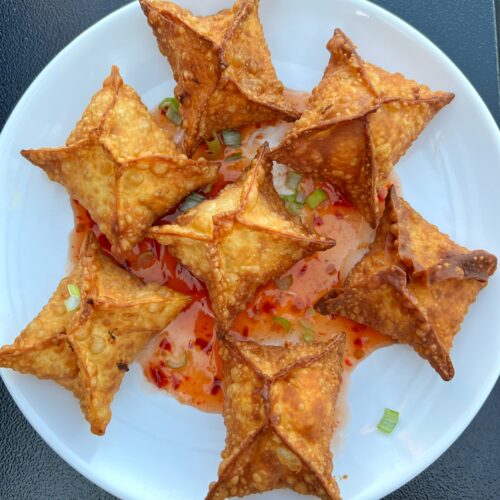 Traeger Smoked Crab Cheese Wontons
Delicious pouches of smoky cream cheese and crabmeat, fried up in crispy wonton shells. It is all done on the Traeger and couldn't be better!
Equipment
Traeger Timberline XL

Traeger butcher paper

pastry brush

Heavy-bottomed pan

Tongs or slotted spoon
Ingredients  
12

wonton wrappers

2

tbsp

Korean BBQ seasoning or other Asian style rub

1

block of cream cheese

8oz

2

green onions

chopped

½

cup

crab meat

1

egg

Oil for frying
Instructions 
Preheat your Traeger to 225* and use the Super Smoke setting

Unwrap the cream cheese and place it on a piece of pink butcher paper

Score the cream cheese in a crosshatch pattern using a sharp knife

Generously season the cream cheese with Korean BBQ seasoning

Put the seasoned cream cheese in the grill and smoke for at least 2 hours

After smoking the cream cheese, remove it from the grill and allow it to cool briefly

In a bowl combine the smoked cream cheese, chopped green onions and crab meat

Beat an egg in a small bowl

Begin preheating about 1.5 inches of vegetable oil in a dutch oven or pot

Place a spoonful of the cream cheese mixture into the center of each wonton wrapper

Brush the edges of the wrappers with the beaten egg

Bring the corners of the wrapper up and towards the middle- pinch tightly seal all the edges

When the oil reaches a temperature of 350*, begin frying the wontons

Place a few wontons at a time carefully in the oil and fry for about 2 minutes

Cook the wontons until brown on all sides

Remove them from the oil and drain on paper towels

Repeat with remaining wontons

Serve on a plate with your preferred dipping sauce (I like sweet chili sauce)